All Shambhala Workers are Called Crew
Shambhala volunteers and staff are the backbone of the festival and the driving force behind its success. Many thanks to the fantastic people who give their time and passion to make Shambhala a great place to be. If you are interested in joining our team, please read all the information on this page carefully before proceeding to the application.
ATTN: Returning 2013 Crew
Invites to re-register to work this year will begin to be distributed via email beginning February 21st, 2014. Please email
hr@shambhalamusicfestival.com
if you haven't received an email from us by March 15th, 2014. If you proceed through the public application form without a code, the system will charge you a deposit fee.
Benefits
Free Admittance to festival (upon completion of scheduled shifts, your crew deposit is returned)
Arrive early and watch the festival come to life
Great locations for Crew Camping
One meal per 8.5 hr working shift, two meals per 12 hr working shift
Sense of commitment that comes from working with a team
Memories to last a lifetime!
What are past crew members saying about working at Shambhala?
To have the chance to work with a project filled to the brim with love and acceptance has changed my entire life. I hope I get the chance to make Shambhalattes every year!!!!
One of the best experiences you can have, it helped mould me into who I am today and I couldn't be more grateful.
An amazing way to appreciate a festival in a whole new way!
Working at Shambhala Music Festival has helped me realize my dreams, meet my extended family and grow in ways I didn't know possible. Giving back to the festival by being involved is a gift in itself. When you work here, you get to know that when someone has their Shambhamoment, you helped make it possible. It is the largest, most wonderful group of people I have ever had the honour of working with.
My first year at Shambhala last year uncovered alleys of love and acceptance previously unknown to me. It was a temple of receptivity, a garden fertilized with compliments, a sustainable setting on a family farm. Not only do the portals leading to these higher vibrations of humanity run rare, farms of this breed are key to our sustenance on earth. We are at a critical stage in existence where sustainable agriculture is crucial. An off the grid family farm resembles just this and I want to be a part of it. I want to learn, to grow, to exchange knowledge and create lasting friendships. To carry forth a blessed tradition that changed my life, I want to contribute to the Shambhalove."
Apply Online
Ready to Join the Team?
If you can meet all our conditions and requirements above, we would love to have you with us for Shambhala 2014
Deposit
If you are a first time worker you must submit a refundable $340 deposit and a non-refundable $25 application fee along with your application. This also applies if more than three years have passed since you last worked with us. If you don't already have a PayPal account and want more info, please 
CLICK HERE
. Sorry, we don't accept deposits via mail. If you are not eligible for a position, we will refund the total amount back to your account within 60 days of applying. Deposits are returned to the worker by cheque or PayPal after the festival, once we have confirmed with your Supervisor all your shifts were completed. If we cannot reimburse you in person at the festival, your cheque will be mailed by August 30th 2014, or your deposit will be refunded to your PayPal account. See "To Cancel" for more info on deposits. IMPORTANT NOTE: Be sure you have signed in and out for all of your shifts with your Supervisor. Incomplete information will cause delays in your deposit being returned.
Expectations
Arrive to Your Shift on Time, Well Rested and Sober!
We encourage festival workers to pack and use an alarm clock; there are no charging outlets available on the ranch so battery operated is best – they're way more reliable than cell phones. Need a quiet(er) place to camp? We have a crew camping area tucked away from the show site and stages. Arrive to your shift 15 minutes before the start of your shift. Make sure you have signed in and out with your Supervisor each shift. Shambhala Music Festival is a 24 hour festival, there will be day and night shifts available.
Pack Camp-Friendly Food
Make sure you eat regularly, especially before the start of a shift. Arrive to work fed and caffeinated. Skipping a meal could make you cranky and that sucks for you and our guests. We want to leave a positive impression on everyone we talk to throughout the festival keeping yourself fuelled helps! Remember: THERE IS NO POWER for refrigerators or hot-plates and campfires are banned (propane stoves at campsites are OK). Our Crew Kitchen is cafeteria style. We feed workers one meal per 8 hour shift or two meals per 12 hour shift. Coffee will be served in the Kitchen at meal times. If you have allergies, sensitivities, additional needs or are just plain picky, we recommend that you plan to provide most meals for yourself – we can only accommodate standard meat or vegetarian meals, without variation. You should start your shift with snacks and a full water bottle to take to your post – the farm is large and there won't be enough time for you to go back to your camp, even when you're on a break. If you have a "bottomless stomach", make sure you plan for extra snacks and meals, i.e. power-bars, etc. Above all, please think ahead to make sure you have the nourishment your body needs while you're on shift.
What to Bring
Whether it's the scorching heat of mid-day or the to-the-bone chilliness at night and the wee hours of the morning, temperatures are known to wildly fluctuate and changes in weather can happen quickly. Pack for all types of outdoor conditions including warm water-proof shoes, extra socks, sunscreen, bug spray, rain gear and a good hat for sun or rain. Comfort is the key to staying happy and healthy on the farm. IMPORTANT NOTES
All crew must wear closed toe shoes at all times while on shift.
Dress in layers. The start of your shift might be much hotter or colder than the end of your shift.
For more info on what to pack, check out 
Britz's Guide to Festival Essentials
.
Or print this updated PDF packing list
Limitations
We cannot accept workers who:
Are under the age of 19
Cannot legally work in Canada*
*Non-Canadian citizens who are in Canada with a valid Canadian work visa, or have permanent resident status may work with us. Documentation must be provided in these cases.
Time Commitments
Minimum Number Hours Required:
Some workers will be scheduled for more than the minimum commitment depending on their role and availability; minimum hours provide a basic idea of expected commitment.
SHOWTIME:
All positions scheduled during the festival and within 10 days of our public dates are considered "Showtime" positions. All Showtime work takes place on the Salmo River Ranch (festival site) unless otherwise specified. Shambhala Music Festival runs 24hrs a day during public showtime and schedules reflect this. Volunteer shifts are broken down into morning, afternoon/evening and overnight shifts. For higher level positions there are day shifts and night shifts.
Showtime Volunteers:
We aim to create shift schedules which are fair, fun, and provide enough time off during the festival for you to get out there, enjoy yourself and do some dancing! For this reason we have established the following guidelines when creating volunteer schedules:
34-hour time commitment 4 x 8.5 hour shifts
Two of your shifts will fall on the four days that the stages are open (between Thursday evening to Monday noon)
Most shifts are as follows: Early Morning – 6 a.m. to 2:30 p.m. Afternoon – 2 p.m. to 10:30 p.m., and Overnight – 10 p.m. to 6:30 a.m. Shift Preference will be given to returning volunteers.
See Job List for available volunteer positions.
Showtime Staff (Paid):
Staff shifts are between 8 and 12 hours for the duration of the festival
These positions are filled by seasoned, dedicated staff who come to the festival for the work experience and the satisfaction of working hard and enjoying the festival with their crew
Wages are position-based
See Job List for available Crew positions.
PRE and POST SHOW
We have dedicated tradespeople that do most of our building, but we often pair them up with skilled volunteers to expedite the process. This crew has a high retention rate so if you are a first time worker please also indicate which showtime crew you would be interested in as well. For crew or guests who are committed to returning the farm to it's natural beauty, we'll keep you working in exchange for meals for a few days after the show. Come see us at HR while onsite if you are interested in helping with post show clean up.
To Cancel
We hope this tab won't apply but if you do have to cancel PLEASE email: hr@shambhalamusicfestival.com as soon as you can. The more heads up you can give us, the better. We appreciate your consideration, since we'll need to find someone else to take your place. However, the administration fee of $25.00 is non-refundable. Any cancellations made after July 15th are not eligible for a deposit refund, except in extenuating circumstances, and at the discretion of Shambhala. Deposits are kept to cover administrative costs associated with last minute changes to hiring and scheduling. If you are in contact with HR about potential changes to your availability in advance, you are more likely to be reimbursed.
Training and Arrival to the Farm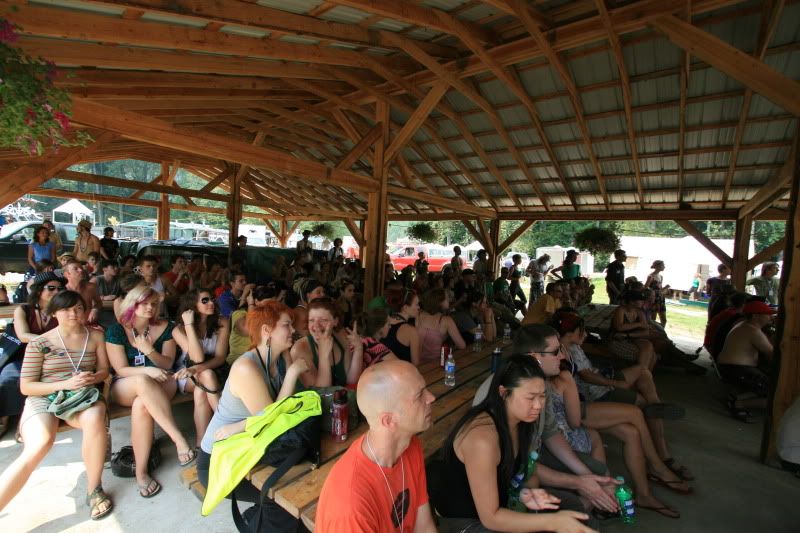 All workers are required to attend our group orientation session on Tuesday, August 5th, 2014 at noon. Please arrive onsite before 9am on Tuesday to give yourself ample time for check in; depending on arrival volume, it may take a few hours. We highly recommend that you arrive on Monday, August 4th, 2014 to set up your camp and settle in. Only people scheduled to work on Monday, August 4th or earlier may arrive prior to Monday. All crew must check-in at Reception upon arrival where you will receive your credentials. You will then proceed to HR to fill out your paperwork, receive safety orientation and confirm your schedule.
IMPORTANT
: Your friend/partner/hitchhiker-you-picked-up cannot come on-site before the gates open to the public if they are regular ticket holders. For safety reasons, only registered crew may arrive in advance of our gates opening to the public, no exceptions. We do not accept new volunteers at the gate. Be prepared to provide for yourself (meals, snacks, and water, etc.) until the food vendors open and ATM's are operational on Wednesday morning. Generally, one food vendor will open on Tuesday, August 7th. Workers will also be notified about specific job training which varies by department/position. These times and dates will be determined prior to June 15th. Notifications will go out via email primarily.