The Village
Welcome to the Village! A supernatural, sci-fi, Tiki town tucked away at the back of the most pristine Kootenay mountain location imaginable… Shambhala!
As you enter, you're surrounded by not only intense bass and blissful beats, but tree forts interconnected by catwalks and bridges circling the dance floor that shape the upper and outer edges of our Village. Pulsing spires and rooftops depict an ancient dialect of the now extinct Krinkoia, extra-terrestrial travelers who touched down to call this place home some million years ago.
Turn your attention to the full stage nestled under an 80-foot half geodesic structure where you'll find the most amazing artists in this or any other world. DJ's, break-dancers, performance art, turntablists, MC's, aerialists, the Village has it all. If that wasn't enough, 200,000 watts of premium PK Sound will be sure to get your blood pumping…or your body shaking! Come join us, it was built for you!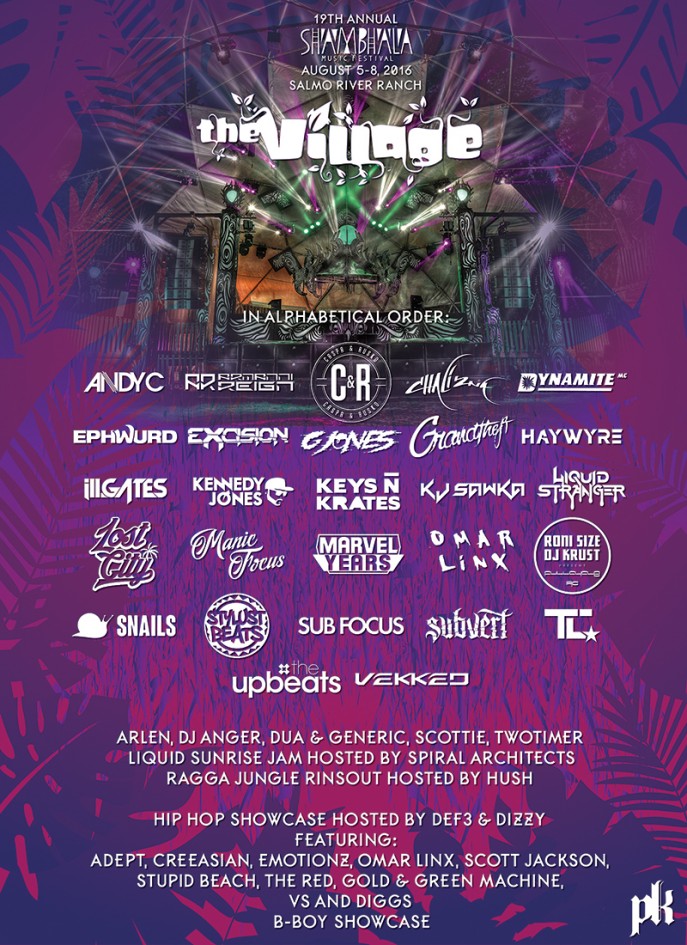 The Village Stage is thrilled to announce the full line-up for the 19th edition of the Shambhala Music Festival! We feel this is one of the stage's best line-ups yet, with heavyweights such as Andy C, Caspa & Rusko, and Sub Focus ready to rip the roof off, to Roni Size and Krust throwing it back to the old school with Dynamite MC and their Full Cycle sound. We've got the regulars you've come to know and love, alongside some fresh new flavours from acts like Ephwurd, Snails, and Keys n Krates. In addition to some of our favourite hip hop from Omar LinX and Chali 2na, some amazing up and comers, and a bit of everything in between – there is something on this line-up for everyone!