The Grove
Welcome to the Grove. In this magical stand of old-growth forest you will find a place of natural solace. Lush pathways guide you to welcoming dance floors surrounded by towering cedar trees, and life-size gnomes. The diverse music line up and continuous performance art captivates those lucky enough to witness. Creative art installations and interactive chill zones dazzle, as you explore the depth of this woodland retreat.
2016 is quickly becoming a detail year. Our infrastructure is set. Plants are growing. We're moving into the forest! Expect more gardens, lounge spaces, decor, lights, ponds, waterfalls – The list goes on!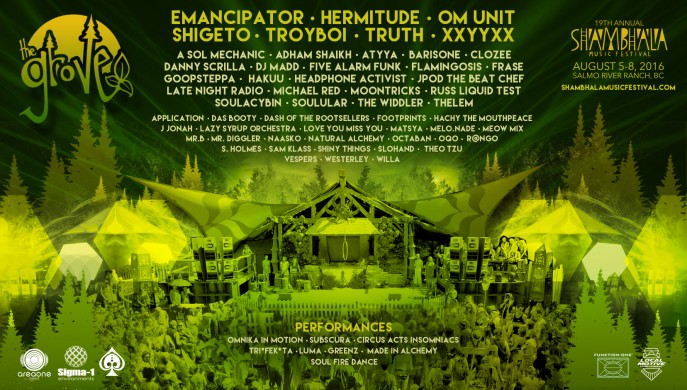 The Grove and all your favourite #gnomies are pleased to present 2016's music and performance line up! This year we dive into many musical realms with tastes from around the globe. We welcome Australian electronic hip hop duo Hermitude to kick off the weekend, followed by one of South London's most unique and versatile producers, Troyboi – both guaranteed to make the place shake! We're also getting funked up with more live shows like The Russ Liquid Test, Late Night Radio, and the return of Five Alarm Funk!
Magic will be created with the lush sounds of XXYYXX, Emancipator, and Shigeto while OM Unit, Danny Scrilla, Thelem, and both members of Truth dedicate a night to the deep end. 
Needless to say – We're looking forward to another bright year! See you in August. <3
Poster design by Onbeyond Metamedia
stage schedule
cedar lounge schedule
Time
Grove - Workshops
12:00PM
12:30
1:00PM
1:30
2:00PM
Soniko: The Power Of A Seed


2:00PM

2:30
3:00PM
Yoga of Bass Talk w/ FreQ Nasty


3:00PM

3:30
4:00PM
4:30
Dash: Live Looping


4:30PM

5:00PM
5:30
6:00PM
Acro Yoga Jam


6:00PM

6:30
7:00PM
7:30
CLOSED
8:00PM
Slohand


8:00PM

8:30
Time
Grove - Workshops
9:00PM
J Jonah


9:00PM

9:30
10:00PM
Willa


10:00PM

10:30
11:00PM
Dash


11:00PM

11:30
12:00AM
12:30
Late Night Radio


12:30AM

1:00AM
1:30
2:00AM
R@ngo


2:00AM

2:30
3:00AM
3:30
Mr. Diggler


3:30AM

4:00AM
4:30
Time
Grove - Workshops
5:00AM
CLOSED
5:30
6:00AM
6:30
7:00AM
7:30
8:00AM
8:30
9:00AM
9:30
10:00AM
SubPac Sound Healing w/ FreQ Nasty


10:00AM

10:30
11:00AM
11:30
Breathing Ground: Yin Yoga w Ashleigh Burns & Matsya


11:30AM

12:00PM
Time
Grove - Workshops
10:00AM
SubPac Sound Healing w/ FreQ Nasty


10:00AM

10:30
11:00AM
11:30
Breathing Ground: Yin Yoga w Ashleigh Burns & Matsya


11:30AM

12:00PM
12:30
1:00PM
David 'Avocado' Wolfe Unplugged


1:00PM

1:30
2:00PM
2:30
Tactical Audio w/ FreQ Nasty


2:30PM

3:00PM
3:30
Thisissami // Creativity & Music


3:30PM

4:00PM
4:30
5:00PM
CLOSED
5:30
6:00PM
6:30
Time
Grove - Workshops
7:00PM
7:30
8:00PM
8:30
9:00PM
Gnome Party: Footprints, Pete Moss, Seathtron, Dirty Beat Farmer


9:00PM

9:30
10:00PM
10:30
11:00PM
OQO


11:00PM

11:30
12:00AM
Matsya


12:00AM

12:30
1:00AM
1:30
AtYyA


1:30AM

2:00AM
2:30
3:00AM
Soulacybin


3:00AM

3:30
Time
Grove - Workshops
4:00AM
4:30
CLOSED
5:00AM
5:30
6:00AM
6:30
7:00AM
7:30
8:00AM
8:30
9:00AM
9:30
10:00AM
10:30
11:00AM
11:30
Church of Reggae Yoga


11:30AM

12:00PM
Time
Grove - Workshops
10:00AM
CLOSED
10:30
11:00AM
11:30
Church of Reggae Yoga


11:30AM

12:00PM
12:30
1:00PM
1:30
Neil Johnson: Permaculture - The Art (and Science) of Life


1:30PM

2:00PM
2:30
3:00PM
Mads Alice: Mindful Eating


3:00PM

3:30
4:00PM
Vespers: Electronic Music Production & Songwriting


4:00PM

4:30
5:00PM
5:30
CLOSED
6:00PM
6:30
Time
Grove - Workshops
7:00PM
7:30
8:00PM
8:30
Mr. B


8:30PM

9:00PM
9:30
Frase


9:30PM

10:00PM
10:30
Hachey The MouthPEACE


10:30PM

11:00PM
11:30
Sam Klass


11:30PM

12:00AM
12:30
1:00AM
Das Booty


1:00AM

1:30
2:00AM
2:30
Westerley


2:30AM

3:00AM
3:30
Time
Grove - Workshops
4:00AM
CLOSED
4:30
5:00AM
5:30
6:00AM
6:30
7:00AM
7:30
8:00AM
8:30
9:00AM
9:30
10:00AM
10:30
11:00AM
11:30
12:00PM