Fractal Forest
Get ready for the next level as the most unique stage in the world takes its passengers on a journey into enlightenment. The sacred starship enters its 18th year of evolution, and is pulling out all the stops in 2016 to bring you the most amazing audio visual experience ever witnessed.
The Fractal Forest™ is a show within a show within a show. DJs play in the heart of the forest out of a burnt out old-growth cedar tree stump, surrounded by 360 degrees of the most beautiful dancers on the planet. Pyramids and flowers are everywhere in the enchanted woodland and if you keep your eyes peeled you may see friendly forest creatures as well as gnomes, fairies, pixies and magic mushrooms galore.
Please join us on the funky spaceship for this epic journey to the 12th dimension and back… boarding at noon, August 5th, 2016 in the Fractal Forest™.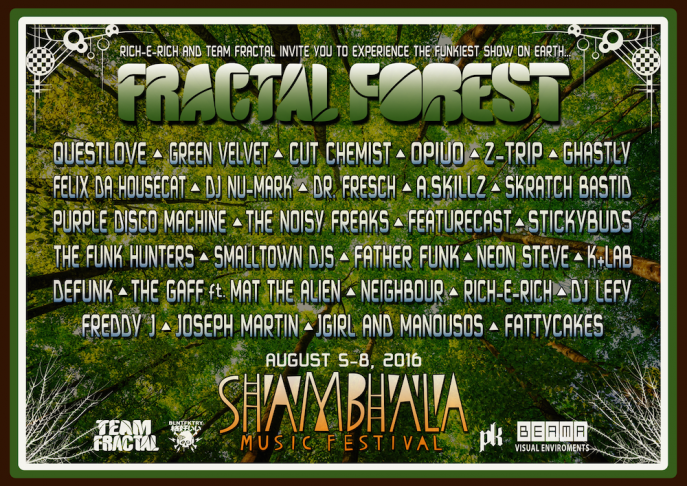 Fractal Forest and Team Fractal are pleased to announce our full 2016 artist roster at the 19th annual Shambhala Music Festival. First and foremost, we are proud to announce that renowned producer and member of the Legendary hip hop group The Roots – Questlove – will be joining us in the forest this summer. Also joining us are Green Velvet, Cut Chemist, Z-Trip, Opiuo, Ghastly and Felix Da Housecat.. On top of that, we've got loads more topnotch headliners and turntablists from around the world bringing you a healthy mix of breaks, house, glitch hop, hip hop, funk and D'n'B. Smalltown DJs will also be throwing down the classic sounds and hosting the 5 hour Fractal Funk Jam on Sunday afternoon featuring a crazy mix of DJs, plus Santa Clause and The Easter Bunny!