Amphitheatre
The Amphitheatre is back for 2016 with a full clip of producers from the furthest reaches of the globe. From Perth to Prince Edward Island, expect original music directly from the hands and minds that created it. Witness legends alongside the freshest, newest, up-and-coming producers in the world.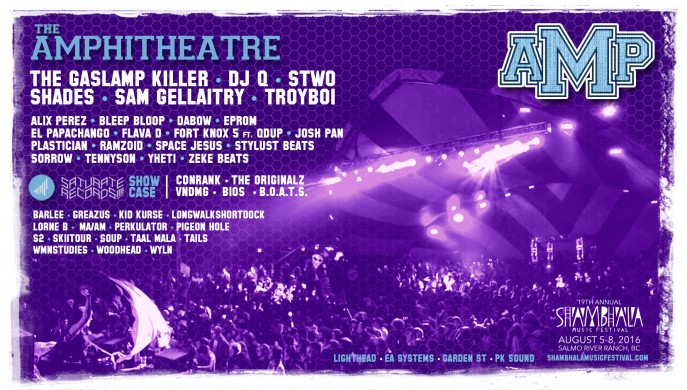 Warm up with sets from Alix Perez and Eprom separately before they team up for their finale as Shades – bass music's newest superpower.
This year, we have dedicated a full night to a spectrum of sounds straight from the UK. Croydon's premier tastemaker Plastician and the garage gamut of Flava D, DJ Q and Sorrow will have you bouncing til sunrise.
European super-producers and Shambhala first-timers Troyboi, Sam Gellaitry and Stwo will absolutely crush all expectations of what hybrid hip hop, RnB, and club music have become.
We've also assembled a cast of the finest Saturate!Records artists in what may be the weirdest and dirtiest daytime show ever witnessed. Imported hybrid bass from Hamburg, Shanghai, California and beyond!
Finally, Low End Theory don 'The Gaslamp Killer' will be gracing us with his absolutely unmatched take on musical selection and presentation. So much more than just a DJ, this man is not to be missed!